Hello, my name is Christian. I'm a product design leader, researcher, business management scholar, and advisor.
This is my personal website.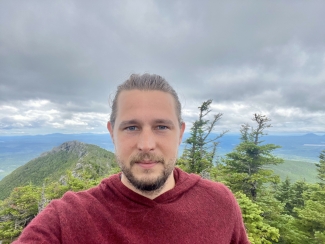 Since 2007 I've remixed personal passion projects, self-directed study, and wide-ranging internet spelunking into whatever I happen to be doing in a professional capacity, and vice versa.
I'm turning this here World Wide Web property into an information garden to organize some of what I've learned for my own reflection (and your perusal).
My work
I have a lengthy track record facilitating effective strategic planning and decision-making under conditions of uncertainty.
Over the years, I've led quite a few high-stakes initiatives and organizational transformations orbiting technology, business management, operations, and culture. All are learning experiences I think of fondly.
"The opposite of complexity is not simplicity. It's reductionism."

—Nora Bateson (source)
I value equitable outcomes, sustainability, and inclusion. I believe it is beneficial to embrace complexity and dance with systems as opposed to being reductionist.
At heart—and in practice—I will always consider myself an information architect.
A brief history
During my 15+ year career, I've partnered with organizations of all sizes; including government, non-government, enterprise, and startup stage teams. 
Past focus areas have included commerce, civic technology, product, brand, marketing, advertising, AI & ML readiness, and more.
2022 to present
Design systems lead, product design team, NuORDER by Lightspeed.
2022
Product and content design at Shopify.
Role eliminated by restructure.
2019-2022
Design, product, and operations strategy at Anchour.
2016-2019
Transformation strategy for enterprise and government organizations on behalf of Coria; first as a contractor ('16) then as staff ('17-'19).
Product, technology, data governance, and AI readiness strategy.
Solution architecture, front-end engineering, and digital accessibility.
2014-2016
Consulting product designer and software developer for various agencies and product organizations. 
Designed and developed web software products for construction and materials companies.
2010-2013
Freelance web software design and development focused on web standards and accessibility guidelines.
Sales and customer service consulting at telecommunications companies.
2007-2009
Founding designer and full-stack developer at CreativeMeta, a boutique web software studio.
What I'm up to online
Say hi
Please do not hesitate to send an email to christian@jacobs.io. I'm usually up for a conversation, drinks, or dinner.